Signing photo provided by Athletic Director Chanse Young. Today's Tribe Sports Report written by the Tribe Sports Network Director Ryan Scott.
Indian News. The Football sectional pairing show will be this Sunday at 5pm on https://www.ihsaatv.org/.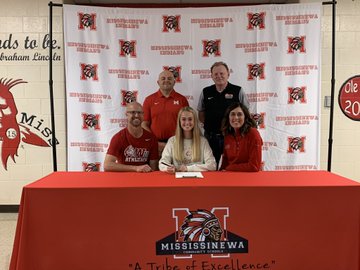 Girls Soccer. Coach Wilson and her Indians fell to Northwestern 4-0 in the semi final round of sectional 21 last night at Northwestern. No official stats were reported.
Tennis. Ryan Scott and Riley Fuqua ended their season last night 6-0, 6-3 in the 5th round of the individual state tournament. The duo ended the season 22-5.
---
Tonight's Events
–MHS Football at Alexandria (CIC showdown) 7pm (80% chance of rain at kickoff)
Football Update for 10/11
For tonight's Alexandria game, fans should park in the South Parking Lot next to the Intermediate School.
---
Don't forget to subscribe to the MCSC Athletics YouTube channel to catch all the LIVE sports events provided by TribeTV/The Tribe Sports Network. Follow MCSC Athletics on Facebook, Twitter, and Instagram. Tune in Daily for the Tribe Sports Daily Show on YouTube provided by TribeTV.